Praise Ministries Int'l
Est. 1988 founded by David and Shonda Tompkins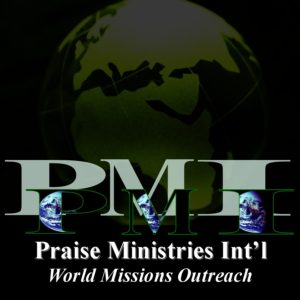 Just to give you some background of what this ministry has been doing since we started.
Praise Ministries Int'l Inc. was founded by a call of God in 1988. We traveled as full time Missionary Evangelists' for nearly 6 years across the entire United States and some parts of Mexico. During such time, I was also privileged to travel and sing baritone with the TempleAires Quartet for 2 years. The group opened on stage for the Cathedrals, the Weatherfords, the Arnolds, and many more. I also attended and graduated from Rhema Bible Training Center, aka Kenneth Hagin Ministries from 1992-1994.
In the summer of 1993, our family joined with Pastors Dale and Cris Drain, pastors of Calvary Temple in Edmond Oklahoma where we became his Associate and Youth Pastors. That first year we commuted from Edmond to the Tulsa area, usually 4 times a week so that we could finish Rhema while continuing to serve as full-time pastors. Our family served at Calvary Temple for nearly 10 years from 1993-2002. Over time, we developed a heart to do missions trips and had the privilege to lead other groups as well. That led to the opportunity to travel to 16 different countries in Central America, Asia and Africa doing missions work for the church and God's kingdom. After 9 ½ years at Calvary Temple, we felt a call of God to venture into a transition of ministry. At the first of 2003, we were full time Missionary Evangelists' again. Our purpose was to evangelize while in America while raising funds for our trips out of the country. Our travels in 2005 took us to Guatemala, Mexico, the Philippines and to East Central Africa which all have a very special place in our hearts.
In January of 2005, another change took place when God's Spirit led us into the temporary office of becoming Lead Pastors of Mending Hearts Church a year and a half after the passing of our friend and mentor, MHMC's founding pastor, Mike Lincoln. From 2005-2015, David and Shonda have been teaching and training leaders within the local church, helping to restore broken hearts, and working with Christ as He builds Himself into the church and community. There is no question that Mending Hearts Church has played a significant role in its rural area and also in the continuous building of our lives and experience. Also within our years at MHC, we had added the Mission of Hope in Haiti to our works and travels.
It has been 31 years since Shonda and I first sensed that God was calling us to the world and in February 2015, we felt we were prepared to pass the mantle of the pastoral office at MHC and devote even more of our time and efforts to winning the lost around the world. Through the inspiration of His Word and the fire of His Spirit, we are always devoted to delivering a message of hope and encouragement here and abroad.        -David Tompkins
David and Shonda are used frequently in the prophetic gifts as the Spirit wills and it has been said that they are modern day revivalist'. David feels one of his strongest points of ministry is to encourage spiritual growth in the body of Christ. Shonda has been transformed by the Spirit of God and now is used to encourage and bring hope to other women that they can be beautiful from the inside out!