Home Outreach
For many years, the Church in the United States has sent missionaries overseas, but there are also people right here that need that same kind of support.
Always Start at Home!
When Jesus said that we would be witnesses by the power of the Holy Spirit in Acts 1:8, He taught us that we would start at home first then spread to all the world to share the Good News and it's power. Shonda and I feel strong about our Evangelistic calling right here in our great nation. It is something we have never swayed from, even through the years of occupying a pastoral role. Our prayer is that God will heal our great nation and that comes from people like me and you repenting of our sins and calling upon God. We are extremely fruitful as we share the gospel in local missions, local churches and from state to state.
Ministry to the Homeless
David and Shonda have been serving the Oklahoma City Rescue Mission (CRM) since 1988. This was one of the very first outreaches PMI became a part of with the call of Evangelism. At that time, the CRM was a little brick building on South Walker(Left Photo). You could minister on the sidewalks or call them inside and host a full service with live worship, a message and an invitation/time of ministry. Now you can see the progress over the years and how God has prospered this wonderful mission now located on California Ave in OKC (Right Photo). They have many wings to the facility including a chapel, a gym, a large kitchen and dining hall and housing for families.  
We actually have been connected to this wonderful city outreach since that time. David and Shonda actually taught marriage and family health classes at the new facility for several years which according to the staff of CRM was very profitable to the families and their futures of hope. The Oklahoma City Rescue Mission is a private, faith-based nonprofit organization providing solution-based ministry to the homeless and near homeless in the Oklahoma City metro. Their mission is to lead the community by serving the homeless and near homeless with help, hope, and healing, in the spirit of excellence, under the call of Christ.
---
Prison Ministry
In 1990, David and Shonda joined with another ministry and began going behind the gates!  As Evangelist, called to the Great Commission, they knew this would become another avenue to reach people for Jesus Christ. For the next 3 years, PMI became committed to changing lives of the incarcerated, teaching them that they could experience the wonderful gift of freedom where it counted the most... in the heart! Through these efforts that seemed uncomfortable at times for Shonda and David, they watched as countless lives were sincerely touched by the power of a life-changing God. We consistently visited inside Mabel Bassett Correctional Center(CC) in McLoud, Dick Conner CC in Hominy, Mack Alford CC in Atoka and the Joseph Harp CC in Lexington.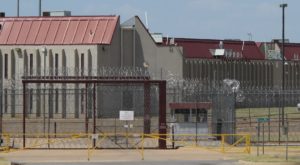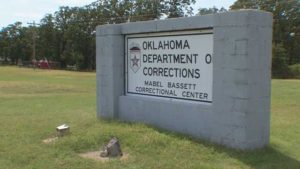 David and Shonda remember taking audio equipment with them, having to get it cleared by the guards and then carrying it to the chapels to get set up in time for service. "As we would walk through the gates I remember hearing some men on the courts hissing and yelling out at my wife making comments. I remember talking with Shonda afterwards and telling her we wouldn't go back if it made her too uncomfortable. In the end, we determined the rewards of those that would tear up as Christ began to transform their hearts was worth the ridicule we would endure". 
We believe every individual is worth fighting for, and we believe in a God of grace. That is why PMI was committed during that season of experience and learning evangelism to running hard after those who needed restoration of hope!  
---
Reservation Ministry
In 1991, David and Shonda had the privileged to minister at the Ramah Navajo Indian Reservation near Prewitt New Mexico. This mission made a lasting impact on them both. Their hospitality and generosity was second-to-none and their faith in Christ knew no bounds. PMI held an 8-day revival meeting in a full gospel church (left photo) for Pastor D.L Cooper and the results were nothing short of a miracle. So many people were saved, filled with the Holy Spirit and healed during that special meeting.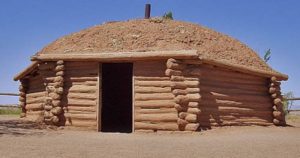 Above is a native home called a hogan. Many still live in these on the reservations today. One of the most memorable moments of our stay on the reservation was when we were told that skin-walkers were circling the church at night trying to stop the meeting by performing types of witchcraft. You could actually hear them off in the distance and even catch a glimpse of them occasionally. They cover themselves with the tanned skins of dead animals like coyotes or deer and dance while trying to curse and bring harm to people, especially the Christians.  But we could clearly see the more they tried, the more God moved. Signs and wonders were happening in these meetings. By the time the week was up, there were no more skin-walkers, many new families had been added to that church, so many people had been healed from things like being deaf and crippled. To God be the Glory. 
---
Disaster Relief
Where do we start by sharing of this evangelistic act-of-love that took back the area from the storm. What started as a simple phone call to check on friends after two days of tornadoes ripped through the communities of Little Axe, Shawnee, Carney and Moore in 2013, snowballed into one God connection after another. Immediately after coming out of shelter, we were calling to find out if a close family and friend needed clothes and/or shelter and the next thing we know, Shonda and I are on the phone with Marcus and Joni Lamb of Daystar Television Network. What a blessing they turned out to be in this tragic situation. They began to offer assistance from Daystar through us and the rest is just stand-back-and-see-what-God-can-do miracles and acts of love towards those who were affected.    
With the help of so many people, organizations and networks, David and Shonda were privileged to help in restoring people, families, homes, automobiles, storage shelters, shop buildings, livestock shelters and fences, and the list goes on. The pictures above are just two out of hundreds that we took during those efforts that lasted over a year. The before photo is the next day after the storm demolished a families home and the after to the right of it is the process of rebuilding on their property. This family had lost everything but after the generosity of so many, they gained a new home, a storage shelter, a livestock shelter and most importantly, their entire family gained Jesus Christ as their Savior!
---
Disaster Relief
In September 2017, Hurricane Harvey goes on record as the second costliest natural disaster world-wide. Shonda and David were headed northwest from a ministry trip to Florida with a destination of The Freedom House Freeport TX. However, by the time that weekend showed up on the calendar, Harvey had made landfall in Texas and just hovered over the Houston area dumping record floods over most of south Texas.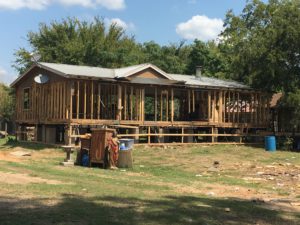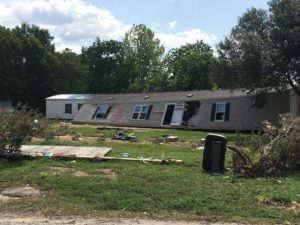 After our scheduled service at the Freedom House had to cancel due to flooding and helping survivors, David and Shonda decided the right thing to do was declare a mission to help out where needed. They bought work clothes, boots, gloves and facemask and started looking for a place to serve. Thanks to the Family Worship Center in Elgin, David and Shonda were given a contact and opportunity to serve the communities of La Grange, Smithville and Elgin by helping donation centers in town and being an encouragement to the home owners. We witnessed so much devastation in these surrounding communities as we took time to meet home owners and offer assistance. 
PMI is thankful for the opportunity to be involved in helping in the early days of the restoration process for south Texas.
---
These are just a few of the outreaches Praise Ministries Int'l has been involved with here at home in the United States. There are so many options and opportunities to share the Good News with people here in the US. We have invested time into evangelistic meetings, prison ministries, nursing home ministries, food banks, blood drives, park evangelism, door-to-door witnessing just to name a few more.
We want you to know that when you donate out of your generosity to Praise Ministries Int'l, it is good soil to sow into and you can trust us that the work of God continues to be done through David and Shonda after all these years! God bless you for your support. Without the donations of our ministry partners, we could not have accomplished all of what you have just read about. Thank You!!
Become a Partner with PMI Now!!

                 

GIVE NOW