Signs and Wonders in Nigeria Africa
Lafia Healing & Deliverance Crusade proves to be fruitful...
In November of 2016, David and Shonda traveled to Nigeria West Africa to join an Apostle of that nation in hosting the Lafia Healing & Deliverance Crusade. below are two separate testimonies from that crusade.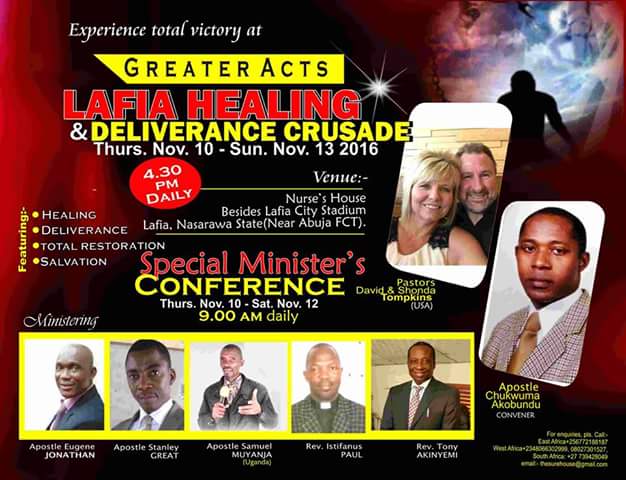 One of the nights of the crusade, after David Tompkins with PMImissions had finished preaching about Jesus and the power of the cross, along with Shonda, they gave several invitations. "We gave an invitation after the salvation call for those who needed to be healed to come forward" said David. "There was a women in the crowd who had lost use of her left arm and hand and she came forward. It looked as if she might've had a stroke at some point. Her left side was almost in a slump. Shonda and I laid hands on her and prayed and after we did, she walked away. I don't even remember seeing her the rest of that night but that's not uncommon seeing how there are always so many people crowding us for prayer and fellowship. The next night she was there again and this time it was very evident that she had experienced something powerful. She was in exuberant praise to the Lord. Her testimony was that sometime in the night after she had been prayed for and left the crusade, her left side, her arm and hand, began to feel different. She then realized that she had feeling in her left side that she hadn't had before. That night of her testimony in front of the crusade attendees, she had full use and motion of her entire left side"!
The same night as the testimony above, during the healing line, another woman came forward. She had been on the back of a motorcycle (public transport vehicle) and was in a very bad car accident and it had permanently damaged both of her ankles. When she came forward that night for prayer, she could not hardly walk but rather could only shuffle her feet back and forth to move around. She had brought a lady with her that night to help her get in and out of the crusade area. She was in constant need of care to help her get around. After hands had been laid upon her and she had been prayed for, David told them all to do something they weren't able to do before as an act of faith. She began to shuffle her feet around, trying to walk in a circle. She started out slowly but then she began to pick up speed. As she moved even faster, she began to pick her legs up as to take steps. And she continued to do this until she had gained full control of her legs, ankles and feet! This woman had been completely restored by a miracle. She began to dance and the crusade crowd just erupted with praise. She was crying and rejoicing along with many who had just witnessed this wonder!