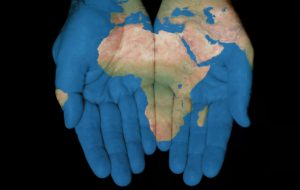 Our primary aim and mission is to share the Good News of Jesus Christ to the nations.
Shonda and I just returned from Nigeria, Uganda and Zimbabwe! Our trip started in Lafia Nigeria with a Miracle Gospel Crusade at the Lafia Central Stadium and the Minister's  & Leader's Fire Convention. It was powerful! We witnessed salvations, Holy Spirit baptisms, healings, miracles and more. Then we traveled on to Uganda where we spoke at the Trinity Ministries Annual Conference in Kalerwe just north of Kampala and we also hosted special meetings for the Busia Miracle Centre located near the border of Uganda/Kenya. Again God moved in all His power and glory and hundreds were impacted! The glory of God was nearly tangible in Busia and everyone in the house had hands laid on them! That's over 2000 people! Of course, the Pastors were there to help us thank God. Then on to Harare Zimbabwe to the Sebi Bible College where we commissioned the graduates, gave them special gifts and prayed for each them at their 2016 Graduation ceremony.
We are so excited for this trip. It has been many years since we have traveled to Africa. In a vision in 1988, I was shown the country of Africa and many lives were born again, miraculously healed and delivered! The results are that God's glory and power has been stirred up among the people through the ministry and anointing he has placed on us and our calling. We have ministered abroad the continent of Africa to Uganda, Kenya, South Africa, Swaziland and Mozambique. We seem to be the most fruitful by hosting crusades, leadership conferences, assisting in church planting and resources, discipleship training, pastoral support and providing food, clothing and shelters to those in need.
Please pray for us and consider partnering with PMI to further the impact of the Good News of Christ to the world. On our site, you can find links on how you can partner and support what we are doing.