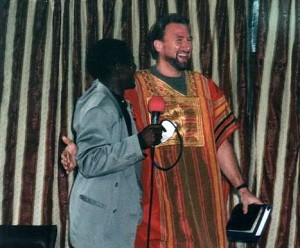 In Uganda Africa there is 23.3 million people who need to hear that Gods' will for them is to have an abundant life, be healed from diseases, and operate in God's grace through the Spirit of Jesus Christ!
In the 23.3 million population of this small country, we can reach them for Jesus Christ with your help.  In 1988, I had a vision from my bedroom in the middle of the night. It was like a giant TV was playing on the wall opposite of me. I watched as I witnessed Shonda and I being used in ministry by the hand of the Holy Spirit. Thousands were coming to Jesus while hundreds were miraculously healed of diseases and bodily infirmities. It was extremely powerful and seemed so real. I cried and prayed the whole night until morning when i began to share it with Shonda.
On our third trip to Africa in 1999, while in Uganda, something special happened!  God moved in a powerful way.  As we preached the gospel to hundreds in a Pastor's Conference, a powerful anointing came and miracles, signs and wonders followed in abundance.  This anointing was so powerful.  I had never experienced anything like it in 14 years of service to the Lord. During this time I met a Pastor in Kampala, Uganda that had a dream in 1988, the same year I had my vision.  They were nearly identical.  Pastor Samuel Sebuliba had seen a man in his vision that would be instrumental in turning Uganda right side up for Jesus Christ.  He shared this vision to the congregation of that conference in 1999.  I was the one he had seen.  Since that time 26 thriving churches have been planted and new areas in the northern districts have been reached and evangelized. We have been into villages were they had never seen a white man nor ever heard the gospel of Jesus Christ. But in Uganda there are still many unreached people groups that have still never heard the message of Christ!