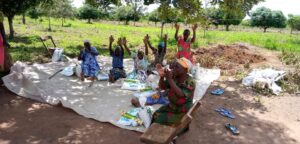 Sharing the love of Jesus by taking care of the poor and the widows during COVID19!
In July of 2020, David and Shonda Tompkins, founders of Praise Ministries Int'l, joined with Bishops John and Agnus Eitu of Global Harvest Church, on a mission to take much-needed food and supplies to some elderly families in need near Soroti, Uganda AFRICA. The ministry here was ready and prepared to contribute to the need only because of faithful and generous supporters! Men, Women and ministry organizations that have either sent monthly contributions as PMI Ministry Partners or by responding to David's request posted on the ministries Facebook page.
The food was delivered to several families and many widows on July 25th in these villages. Rice, beans and other staples were contributed along with soaps and various hygiene products. The people there have been on a serious lockdown and even had curfews since COVID19 stuck it's head up in March of 2020. Because of the lockdown, they were not able to work, travel to stores or anything. They have seriously been in need ever since the first of March.
Bishop John Eitu sent David and Shonda, and all who participated in helping in the project a special thank you from the people there. He said they were shocked to see all the food arrive to their families. They have expressed their gratitude in being blessed by so many here in the United States of America! They know in the small villages of Uganda that people around the world care about them! May God bountifully bless you all for the support!