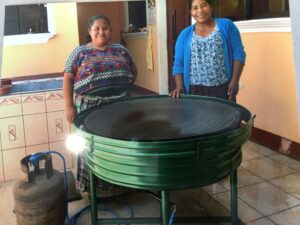 Guatemalan Pastors Develop New Ways To Bring in Additional Financial Blessings!
In March of 2020, at the forefront of when COVID19 stuck it's ugly head up in the United States of America and around the globe, many of our PMI network pastors in the mountainous regions of Guatemala seen an opportunity for blessing in their homes and in the marketplace. David Tompkins met with Bishop Gregorio Otzoy from Patzicia Guatemala at the first of the year in 2020 to discuss how we could all be a blessing to the Guatemalan pastors and their families in the year to come. The project was to purchase some gas grills for Pastors and their families to use in their homes and to start a business making and selling tortillas.
In most homes in the mountain villages and small towns, the women of the home cook over an open fire in their small cinder block kitchens. The problem is that they don't have good ventilation, so the family is consistently breathing in the heavy smoke which causes long-term health issues on their lungs and even shortens their life span. These well-made gas grills are made in such a way, they can cook many things on them, including mass production of tortillas and other breads, and not have the hazards they had before! PMI, with the help of our PMI Ministry Partners and many supporters, purchased several of these grills with full gas tanks for the Pastors homes. Since then, they have used them to make and sell bags of tortillas and bakery items to bring in more financial support for their family and the ministry. Needless to say, they are extremely happy and grateful!
Bishop Gregorio Otzoy, his brother Nicholas Otzoy, and all the ministry pastors and teams there in Guatemala extend their sincere gratitude to those who contributed to this cause. David and Shonda want to say a huge "Thank You" to all of the generous givers that helped to get this project done. These grills are such a blessing and are so beneficial, we will probably be buying more here before to long!